FlocareBeauty is a premium personal care brand (by Afcallo Ventures; a woman owned Ghanaian ethical company established in November 2017) on a mission to create nourishing and rejuvenating skin & hair care solutions for families and individuals.
Inspired by our passion to help mothers nourish their babies' delicate skin, as well as rejuvenate their own skin & hair, our products are handmade and minimally processed using only safe, high quality, natural and organic ingredients.
Our main ingredients include shea butter, baobab oil, coconut oil and other high-performing botanical ingredients sourced primarily from Ghana and other African regions.
Our products cater for all ages and skin types including babies and individuals with sensitive skin (even more so for the afro-ethnic consumer who struggles to find products that work for their unique melanin-rich skin and afro-textured hair types).
FlocareBeauty products are simple yet effective and help you achieve healthy, radiant skin and hair (for you and baby) that makes you love your skin and boosts your self-confidence.
Why choose FlocareBeauty?
100% NATURAL & SAFE INGREDIENTS
Every single ingredient that goes into our products is 100% natural and safe!
We ensure that we only work with natural ingredients that have been minimally processed, and without the use of chemical solvents, toxins or synthetic preservatives.
This is to ensure that all our ingredients contain all their natural potent benefits that will work their wonders for you and baby's skin.
Most of our ingredients are sourced locally, from Ghana and other parts of the African continent because we believe we have so much rich natural resources here that work amazingly great for healthy radiant skin. These botanical ingredients offer much more than just moisturizing benefits for the skin, they also provide therapeutic benefits.
We do not, and never intend to use any ingredients, nature-derived or not, that has even the slightest potential to harm you or baby in the short term or in the long term. Some of the ingredients we stay away from include but not limited to parabens, phthalates, sodium lauryl sulfate (SLS) and/or sodium laureth sulfate (SLES), steroids, just to name a few.
Here's our promise to you; to help you care for you and baby's delicate skin and hair with only the purest natural ingredients that will not only moisturize/cleanse, but also nourish, rejuvenate and provide therapeutic benefits for your total body, with no compromise on quality and safety.
The core of our operations, products and service delivery are based on these values.
At FlocareBeauty, we are true to our principles and promise. Using only the finest natural and safe ingredients in all our products allows us to stay true to our brand. We conduct each action in an honest, ethical and fair manner in order to foster trust between us (as owners and employees), with our customers and in our relations with others.
At FlocareBeauty, we are committed to being the best version of ourselves and presenting our very best. To do this, we put the consumer at the heart of all we do. We completely commit to continually exceed expectations, innovate, and give 100% of everything we do.
We continually strive to improve our products and services by cultivating our knowledge, skills and attitudes to achieve excellence.
FlocareBeauty focuses on being original and genuine. We are proud Africans and we love what Africa has to offer. So from our engagements to our formulations, our ingredients choices and products, we work hard to ensure we stand out in our industry as an authentic brand from Ghana to the world. Our uniqueness and authenticity is also a way to inspire confidence in our customers.
FlocareBeauty cares deeply about the wellbeing of everyone in the family especially mothers and babies. It is with this passion that we strive to deliver safe, high quality, natural and organic products that give your skin and hair the very gentle yet effective care it deserves.
When you step out, we want you to do so with confidence knowing you body is well taken care of by FlocareBeauty.
We advocate for Sustainable Development Goal (SDG 3): Good Health & Wellbeing.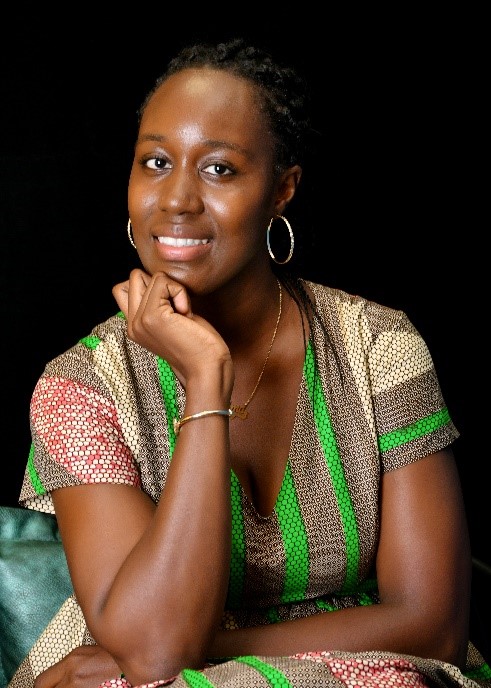 Hello and welcome. My name is Christabel Ofori and I am the CEO and Head Formulator at FlocareBeauty. I am a chemical engineer, with over 8 years' experience in manufacturing in the fast moving consumer goods sector. I love everything about the production process and how different raw materials can be beautifully transformed into functional products for everyday use. I am a wife and mother of 3 adorable and energetic boys who are the inspiration behind this brand. FlocareBeauty was a response to a need I had for natural and effective skincare products for my first son's dry and sensitive skin. I noticed how other mothers like me has similar needs and yet most of the products available in the market were imported popular brands that didn't work very well for his skin and the weather conditions here in Ghana. It started with raw sheabutter that I was able to whip into the most creamy texture that made its application easy and it worked amazingly well and made his skin soft and smooth. I was so happy with the outcome that i made more and decided to sell to friends and family who had children and had same need. That's how FlocareBeauty was started in 2017. Having a science background, and naturally the analytical type who wants to continually improve, it kindled a passion to learn and research on more and more natural ingredients for skincare especially for those more abundant in Ghana. So now the passion continues to grow and I spend a lot of time researching and learning about different raw materials and formulations for natural skin and hair care. All I want is to equip and empower mothers, individuals and families with the right products and knowledge of how to care for their skin and hair with natural products that are safe, accessible and effective. Being a chemical engineer and a formulator-in-training at one of the best Organic Skincare Formulation School in the world, I understand the science of what I'm doing. I pay attention to detail and ensure that each small batch is made under strict hygienic conditions, with no compromise on quality.